St. John's Episcopal Church
679 Farmington Avenue, West Hartford, CT 06119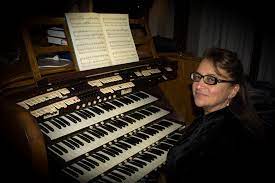 The Pipes Alive! series continues with Natasha Ulyanovsky playing the St. John's organ on Sunday, December 5, 2021, at 12:30pm. 
The concert is free admission – donations welcome in any amount. Checks payable to Music at the Red Door or click here to donate online.
Registration to attend in person is encouraged.
Please do not register to watch online – click on the link below to watch.

Please be advised: At this time, due to the current issues with the COVID 19 virus, masks will be required upon entering and must remain on during the entire performance, and any time you are in the building. Any updates will be sent prior to the day of the concert.
Learn more about St. John's famed Austin pipe organ.
Click below to watch. Click here for the full program pdf.

Program:
Daquin: Noël Suisse
J. S. Bach: Nun komm, der Heiden Heiland, BWV 659
Yon: "Gesù Bambino" Pastorale
Purvis: Pastorale on Forest Green
Guilmant: Carol for Christmas-tide
Dupré: Variations sur un Noël
About the Artist:
Natasha Ulyanovsky (pianist, organist and conductor) is a graduate of the Odessa Conservatory, of the former U.S.S.R., with further music studies at the Moscow Conservatory, at Speyer Cathedral, Germany and at The Queen's College, Oxford. Before emigrating from the U.S.S.R. in 1989, Ms. Ulyanovsky was an orchestra artist and vocal coach at Odessa Opera House, concert pianist and organist with Moscow Soyuzconcert, the state concert management for professional musicians. In 1980, Mrs. Ulyanovsky became a chief organist at Pitsunda Hall of the Abkhazian Republic, where she earned a title of Honored Artist in 1988. Mrs. Ulyanovsky has also concertized in Hungary, Italy, Russia, Ukraine, Georgia, Armenia, Lithuania, and throughout New England. In 2004, she appeared in the program Two Nations-One Love at Carnegie Hall, NY. She is the co-founder of Alla Breve Opera & Consort company. Since 1999, she is has held the position of Music Director at Beth Israel Congregation of West Hartford, CT and has been on the faculty of Hartt School since 2002. She has been honored in 2011 by the Connecticut Immigrant and Refugee Coalition for outstanding contributions to the community.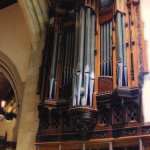 Join us for half-hour organ concerts featuring St. John's magnificent Austin pipe organ, on the first Sunday of the month, November through June, 12:30 p.m. with regional organists. Free!
Music at the Red Door is supported in part by the Richard P. Garmany Fund of the Hartford Foundation for Public Giving, the Edward C. & Ann T. Roberts Foundation, the George A. & Grace L. Long Foundation, the Ensworth Charitable Foundation, the William & Alice Mortensen Foundation, and the Marjorie Jolidon Fund of the Greater Hartford Chapter, American Guild of Organists.